I absolutely ADORE musicals. I don't think I tend to come across as that kind of person but believe me, I am. I'm a proper curtains up, music starts, overwhelmed by excitement for musical crying kind of person.
 Over the years I've seen a fair few, including some wild cards – this is my personal top 10 so far (just ones seen in London). They aren't all on at the moment but things change quite quickly and musicals often come back, so didn't see the harm in mentioning them.
1)      42nd Street
(Still on – playing at Drury Lane)

My friend Tina and I saw this on a bit of a whim. We'd both wanted to see it for a while and realised TodayTix (the app – worth downloading if you're looking to see a show fairly last minute #notspon). They do a £25 ticket lottery, which means if you look at the app at the right time, you can get really good seats at a fraction of the price. We entered and got third row seats for that evening. To date, its one of the best decisions I have ever made.
I am a big fan of a proper, classic musical and this ticked all the boxes for me; GREAT big tap dancing numbers (ridiculously impressive), amazing sets, great songs and a predictable 'girl trying to achieve her dreams' storyline. I'm desperate to see it again and you should want to see it too. You buy the tickets, I'll bring the snacks.
2)      Top Hat
As I just said, I love a classic musical and this is just that – great tap dancing, fun songs and genuinely funny moments but with heart. I didn't know the storyline (or anything about it to be honest) before we went, so everything was new to me. It isn't one I've seen come back again since I saw it but a girl can dream.
3)      Singin' in the Rain
The film is definitely high up on my top 10 favourite films of all time ('Wild' is probably first). I don't think this helped my expectations though as they were far, far too high. I'm not saying it isn't a great musical to see on stage (because it really, really is) but nothing beats the original film. My affection for the plot and songs is one of the main reasons its so high up on this list, if I'm being honest. The dance routine in the rain at the end, which means the front few rows get wet is the other main reason.
4)      Girl from the North Country
This was recommended to me by someone I worked with – in all honesty, I knew nothing about it before he mentioned it but its unlike anything else. It's the only musical that Bob Dylan allowed his music to be included in and you can see why he allowed this. The arrangements are so beautiful I still regularly listen to them.
The music fits seamlessly with a dramatic, touching, yet funny storyline that you just can't predict. The staging, acting, costumes… Everything was just perfect.
P.S yes, Harry Potter fans – that is Moaning Myrtle. I probably shouldn't have whispered to my boyfriend 2 seconds before the curtains went up that she was going to be in it.
5)      Hamilton
(Still on – Victoria Palace Theatre)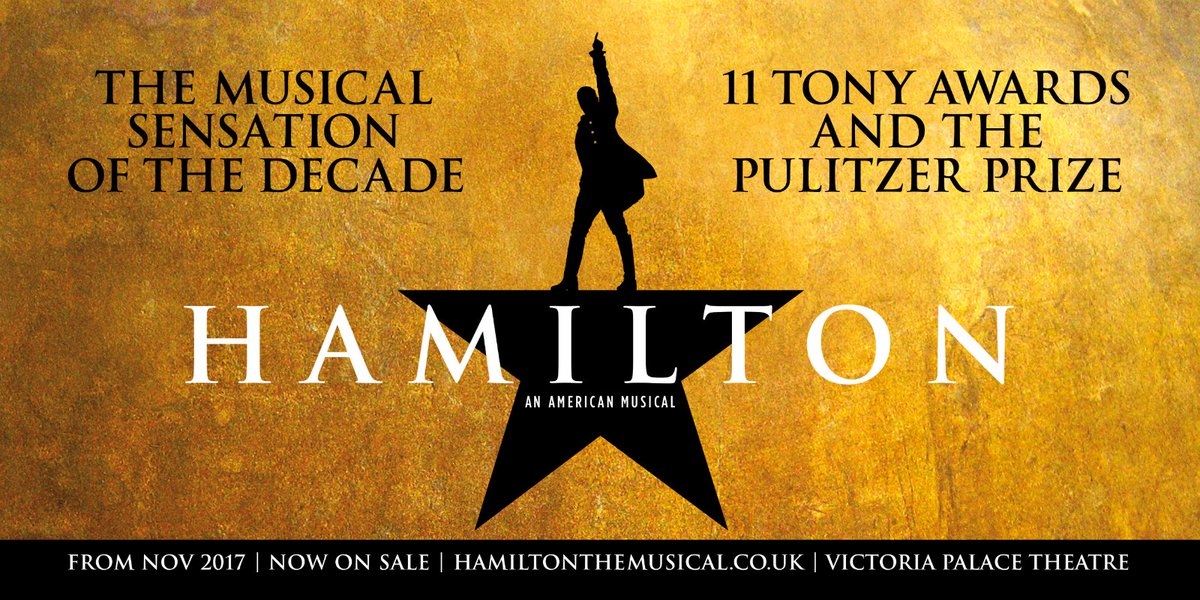 Having seen it twice, there's no way I could leave it off this list. Somehow I managed to get 2 sets of £50 tickets and I know that makes me a SOB, so sorry for that little brag. Tip – sign up for Ticketmaster's emails that tell you when tickets are going to be released and be on the website on the dot. You will have to book super far in advance, to the point where you almost forget you've got tickets. Then you have the delight of remembering and being excited all over again.
Its everything you'd heard about it and more. The actors aren't the same of course but the soundtrack still sounds exactly the same as the recordings you've probably listened to a thousand times over. My only request if you do see it, would be please don't sing/hum along IN THE THEATRE – multiple people did this and it was irritating as anything.
6)      Matilda
(Still on – Cambridge Theatre)
Somehow I got £5 under 25 tickets for this IN THE STALLS. I hadn't been that excited about the prospect of going before getting these tickets but it absolutely blew me away. Its so witty, the dance numbers are beautifully choreographed and performed – super cheeky and childish, but overwhelmingly impressive. There were kids in the audience but its definitely not just for them. If you're a fan of Roald Dahl, you will LOVE this.
7)      Charlie and the Chocolate Factory
You may sense a theme here… In that, surprise surprise I got an offer to go and see this. For this one, the offer came through work, as I was working for Warner Brothers at the time and so we got £30 second row tickets. As in, we were so close that we could hear the kids on stage singing before they came out of the speakers. The film is super fun and the musical mirrored this – the sets and choreography are ridiculously fun, yet impressive. The only reasons this is so low down is that they didn't use that many songs from the film and because in all honesty, I found the kids a bit annoying.
8)      Aladdin
(Still on – Prince Edward Theatre)
I had heard amazing things about this so splashed out a bit on tickets for this for my mum's birthday. Not gonna lie, it wasn't the best money I have ever spent. Its really fun, the sets are good, there's a lot of cast members and of course, you will recognise the songs, which makes it deserving of my top 10 but don't expect anything other than a disney musical.
9)      Wonder.Land
This one and the next musical are both slight wildcards in the theatre game. This was a modern twist on Alice in Wonderland about a teenage girl falling down the rabbit hole that is the internet. The music was done by Damon Albarn, the projection graphics were unlike anything else and I have to say, its one of the maddest things I've ever seen. If it ever comes back on stage, GO AND SEE IT.
10)   Shrek the Musical
We had the film Shrek on VHS when I was a kid and I've probably seen it 15 times. Maybe more. Its not what I would necessarily call a classic but it does hold a kind of special place in my heart. Hamilton and I bought £18, rooftop seats for this (well, basically in the roof), spur of the moment on the day and it was one of the most joyful musicals I've been to. Its so silly but manages to be really self aware which makes it extremely enjoyable. I didn't have high hopes when I went in and I must say they were very much exceeded.
There are a few more musicals I've seen that either tail off the end of this list (Follies, Dreamgirls, Pinocchio, Wicked), or that I saw so very long ago I didn't think they were fair to list (Joseph, Dr Dolittle, Dirty Dancing), or ones I saw in New York (Chicago/Kinky Boots). I've got some more on my list I would like to go to – Motown and The Book of Mormon, in particular, so I'll keep you updated if I get to see any more!
I mentioned offers a lot in this, if you're interested check out:
What's your favourite musical?
Abi
X