And so, lockdown continues. I wish I had something more exciting to say but honestly, it's about the same as always here.
I am incredibly lucky to be inside with a lot to be thankful for and many things (big and small) that brighten my days up.
Here are 8 out of them:
KIDS' DRAWINGS
It's been lovely to see some colour added to the neighbourhood – chalk on the pavement, drawings in the windows… And a lot of beautifully drawn signs thanking the bin men, the postal workers, the NHS and all of those incredible people keeping our world running, and us safe.
ERIN OUTDOORS' PHOTO SERIES
As well as the children, it's been incredible seeing how creative adults are and how they've managed to adapt their skills for the inside world. Erin Outdoors' photo series featuring tiny people from a train set are my absolute favourite thing on Instagram at the moment.
She's done it so well that I'm not even jealous I didn't think of it first (ok maybe I am a little bit jealous).
LEMON WATER
Some of you may consider this incredibly basic, others may think this is boujie. I personally, still think of lemon water as something a bit fancy they give you at a spa. Which is why the other day, when I cut up some leftover lemon and popped it into my drink, my entire day was improved. I also drank a heck of a lot more water.
Every time I went to drink my water and realised I had put lemon in it, my mood improved slightly. No, I'm not exaggerating. Yes, I do lead a simple life.
If you already do that, then congratulations you are an advanced human being. If not and you are like me; amazed by the idea of a cut up citrus fruit in some tap water, then I genuinely recommend jumping on board. You can reuse the same lemon all day or change it up if you feel a bit wild – why not add some cut up lime? Maybe even some fresh mint!
What a world we live in.
THE SIMS 4
I used to be absolutely obsessed with the Sims. My best friend Hamilton and I would spend hours and hours at each others' houses; making new sims and getting very into interior design. This continued through our teen years as some days in the summer holidays I wouldn't even get up off the sofa, as I was so enthralled by my Sims careers.
I've had the Sims 4 on my laptop for a while, and played it a little bit but I've never been as completely sucked in like I was a teenager… Until now. I've found myself up until 2 in the morning getting really into landscaping my Sims garden.
I mean… I've tidied and sorted everything I can in my own bedroom, I suppose this was the natural progression. Plus, there are so many additional packs and things you can do with the Sims now – one of my characters is currently a freelance writer, so she chills at home and then just kind of decides if she wants to earn a bit more money from time to time. I have to say, I'm incredibly jealous of her.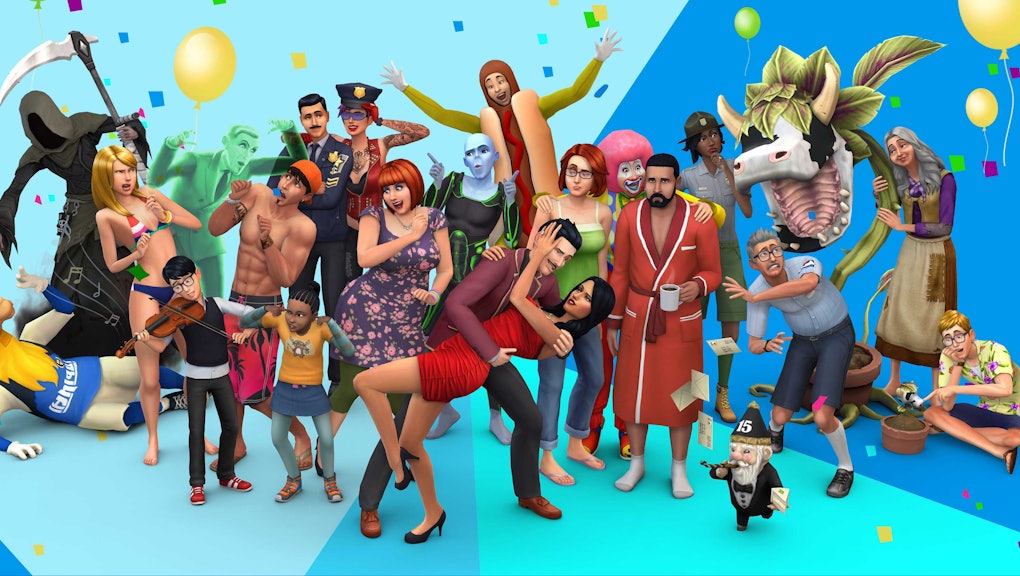 ANNA OF THE NORTH
Thanks to the wonder of Spotify, I have almost every song in the world at my fingertips at any one time. And yet what do I do? Listen to the same 5 playlists nearly all the time.
I've been looking for some more chill music, that isn't sad as I've realised that a lot of music categorised as 'chill' is depressing as anything. So I made it my mission to find a few new artists that fit into the chill/uplifting category I've been hankering after.
One of these, is Anna of the North – an incredibly cool Norwegian singer, described as 'electro pop'. If you like Sigrid/Tove Lo, then you'll definitely be into her. And if you have no idea who either of those people are, then why not give it a listen? You might just find a whole new genre of music you're into.
And yes, you can thank me later for this recommendation (sorry).
MY DIARY
Obviously I won't share with you what I've been writing inside my diary (growing up in the 90s with electronic 'safe' diaries taught me never to share that info) but I will say on a mental note that for me personally, keeping a diary has been incredibly helpful – it stops the days running into one and makes me want to do things in order to have something to write about. Even if I'm just writing about a new TV show I watched or a face mask I've tried, it's better than nothing. It's also a good way to get things out of your system that you might not want/know how to say out loud.
Plus, I have been a bit worried about losing the muscles in my hand that help me write and well, that would be embarrassing once we're all back in the world again, wouldn't it?

KILLING EVE
I mean, if you haven't seen Killing Eve seasons 1 and 2, then where the hell have you been? Living under a rock? Season 3 is back with a bang (out every Monday on BBC Iplayer in the UK) and if you aren't watching it, set aside a couple of days and prepare yourself for a rollercoaster ride of love, murder and… Well some more murder.
AND FINALLY, THIS TIK TOK OF A DESPERADO OBSESSED DAD:
What's brought you joy this week?
Abi
X